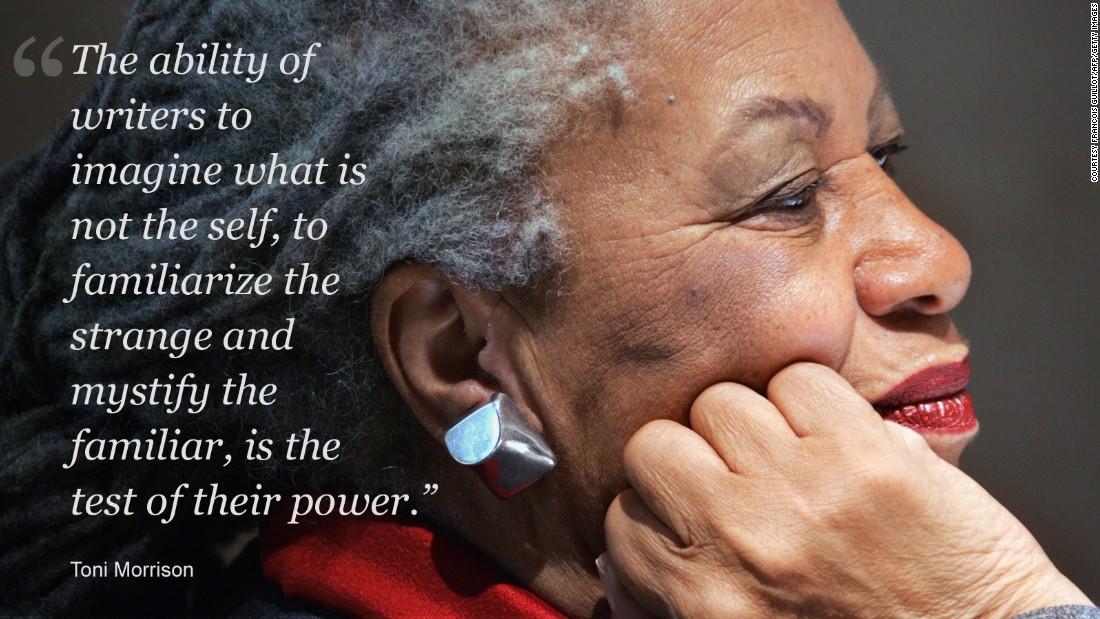 Written by Eliana Perozo
I've only ever had two lovers. I think people have loved me in between, and if it were up to me, I'd count my mother and father as lovers as well. Theirs has been the most torturous, beautiful, love of them all. But we are not counting mothers and fathers.
There have been men and women that held me, dreamed of me, conceived ideas from my wonders. I'm not sure how much I had in common with the depictions they created of me. I'm not sure the two people I consider lovers loved me more than the others, or better, or worse. But I do know that I was most myself with these men.
Because there was love, a revolutionary kind of love, where I loved myself enough not to beg these men for their love but rather have them beg for mine. I learned to do this through Toni Morrison's work, which sought to validate the anger and strength inside me instead of the softness and vulnerability.
I know both these men saw me in the way I wanted to be seen because of the gifts I received from them. The first gave me his very own copy of Angela Davis's Women, Race, & Class. The second gifted me with Toni Morrison's most recent publication, The Source of Self-Regard.
Today, three friends messaged me the moment they found out that Toni Morrison had passed. They knew how much I loved her, how much she meant to me. I like to think that I'm not one to gloat over celebrities, but Toni Morrison always meant something different to me, something more. She was fully human, fully friend, fully mentor in a way that only she could be.
My senior year of college I came across a class titled "Toni Morrison." In a sea of classes with titles as long as memoirs themselves, the simplicity of the name of this class stood out to me. I wanted nothing more than to sign up, but I knew it wouldn't fulfill my creative writing certificate credits. So in typical Eliana fashion, I demanded a reconsideration. I met with my advisor, and then my second advisor, and then the registration office, until the papers were signed and I was registered and approved to receive an English credit for studying Toni Morrison.
At this time, I had no idea I would come to face one of the hardest semesters of my life. I would start a movement, and simultaneously fall from grace, as often occurs to women with big mouths in small towns. I would also lose some of my closest friends, and at times, my sanity. The days would get harder, and I would grip Morrison's books tighter.
I can't say it enough – none of us can – but representation matters, and for the first time in my twenty two years on this earth I felt I was reading a book that spoke to me, that taught me about slavery in a way that reflected more than an economic loss and gain. I read about women I empathized with, as a woman of color myself. I read about single motherhood, poverty, displacement, pain, in a way that I could relate to, understand, though never fully, of course. I also spent many nights grappling with the dynamics of feeling so deeply connected to books written by a black woman on the experience of young black women, as a non-black woman. I wracked my brain wondering if it was right or wrong – but this is the beauty and the curse of feeling, and interchangeably of writing. This coupling of actions forces recognition. And there would come to be so much I was wrong about. But I started to learn, and Toni Morrison was my teacher. She taught me what no history class, no writing workshop, no dean, no doctor, no man could ever teach me. It had to be her. Her work had to be both black and feminine, something new, something forever intersectional, something purely divine in its braiding of cultures, of understanding, of reference. It was always meant to be her.
On the day she died, one of my friends said, "It's just that we need her so bad right now. We need people like Morrison in this world right now." And all I could think was that we always needed her. We needed her exactly when she was, where she was, what she was. This country has always been what it is today: a place to be feared, a place responsible for so much displacement, pain, unnecessary and prejudicial murder. But Morrison always knew this, and she gave us her wisdom through her words. How undeserving we were and will always be.
Tomorrow is my last day at my first job post-college, and it has been nothing if not a constant reminder that I will never be able to put out the fire burning deep within me. I've been secretly writing every day during lunch breaks, coffee breaks, any break. I've been saving up my feelings for a place that will know how to receive me. I've been underwater for so long and tomorrow I come up.
I've dreamt of what's soon to unfold in my life for so long. Yet I haven't been able to be alone with my thoughts since I made the decision to move to New York, since I finally got the call telling me I got the job after months of interviews, years of waiting, of wanting, of yearning.
Today I came home and my roommate, as he always does, so graciously received me. I told him I felt so out of my own skin, so scared, so absent of feeling, so confused about Morrison, so lost there were no words. Something was wrong but I couldn't figure it out. He said to me, "You are overwhelmed and nothing is wrong." And I immediately started sobbing.
See, I am so good at the contention, at fighting for the thing that doesn't come, at demanding my university, my community, my family, my lovers to see me, to see those of us that have only ever existed at the margin of things, to do better, to care more, to work harder, to force and shove. Now everything is falling into place for me. I'm headed in the direction of my dreams and I'm terrified.
Who am I without the pull? What do I talk about now that the thing I've dreamed of for so long is becoming a reality? How do I walk in the direction of the sun?
I am so infinitely afraid of all the things I will never be, of all the people I will never get a chance to say sorry to, of the pain I have caused. But what is fear in the face of wonder? Morrison believed in the joining force of social responsibility and art. She pioneered the space between art and activism. She revolutionized what it means to be canonical. She paved the road for what I believe will be my career, something with no name yet, something with no face, something that cannot be linearly defined by this system, this country, this constitution that wasn't written for people like me to exist. But here we are, organizing at the margins, knocking on your front door. She gave birth to the space for so many women's stories.
She was a historian, a mother, an educator, an artist, a writer, a black woman, a beacon of knowledge and hope. But most importantly, she moved to New York City broke, scared, and unpublished and did the damn thing fully in her own way and on her own terms and for her own people. Here's to her and all the words she ever wrote that bled life back into my beaten and battered soul time and time again.
"Passion is never enough; neither is skill. But try. For our sake and yours forget your name in the street; tell us what the world has been to you in the dark places and in the light. Don't tell us what to believe, what to fear. Show us belief's wide skirt and the stitch that unravels fear's caul. You, old woman, blessed with blindness, can speak the language that tells us what only language can: how to see without pictures. Language alone protects us from the scariness of things with no names. Language alone is meditation. Tell us what is to be a woman so that we may know what it is to be a man. What moves at the margin. What is is to have no home in this place. To be set adrift from the one you knew. What it is to live at the edge of towns that cannot bear your company…" – Toni Morrison, What Moves at the Margin: The Nobel Lecture in Literature